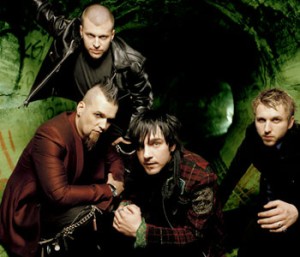 Three Days Grace is a Canadian rock band, formed in Norwood, Ontario, Canada in 1992, originally under the name Groundswell. After a breakup in late 1997, the band regrouped in the same year under its current name and with a line-up consisting of guitarist and lead vocalist Adam Gontier, drummer and backing vocalist Neil Sanderson, and bassist Brad Walst. In 2003, Barry Stock was recruited as the band's lead guitarist. The band is based in Toronto.
After signing to Jive Records, Three Days Grace has released three studio albums: Three Days Grace in 2003, One-X in 2006, and Life Starts Now in 2009. The albums have been certified platinum, double platinum, and gold, respectively, in the United States.
Ad blocker interference detected!
Wikia is a free-to-use site that makes money from advertising. We have a modified experience for viewers using ad blockers

Wikia is not accessible if you've made further modifications. Remove the custom ad blocker rule(s) and the page will load as expected.